Upgrading the safe way
In companies software is often upgraded and when it is being used to get the daily work done, it has to be carefully done.
I recently updated a server and because it was so critical and complex, I practiced before. Most companies use something called VMware which allows you to create backups and exact copies of computers. So I took a copy of the server and did the upgrade and worked out the process. Then last night I upgraded and it worked great.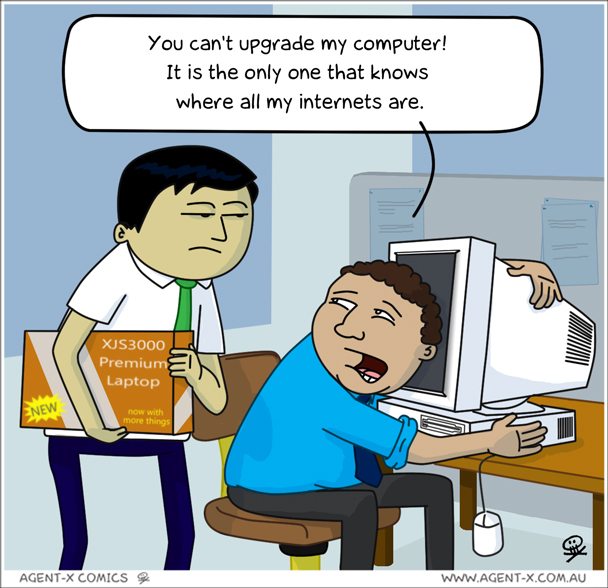 One of the big advantages of having VMware is that it gives a company a much safer and reliable experience with IT. IT can use that to reduce the number of problems that happen, and to make the transition between upgrades smooth. It has been a huge benefit to everyone that it is so widespread, and it helps in so many other ways.
However before this technology was available, we used to have backup systems. Those backup systems were not used unless there was an emergency. Often companies didn't want to pay for backup systems. They didn't like the idea that a computer had to be bought, configured and powered with electricity and then not used. I can understand the desire to save money, but when a computer system fails, that backup system paid for itself many times over.
One time I worked at a company and like many companies they tried to keep equipment longer than they should have. When equipment starts to fail, it is time to immediately replace it. Well the equipment was failing, and I spoke to my manager about buying a backup. He didn't agree with me that it was necessary. Then the next day he went on vacation. I was so convinced there was a problem that I went to his manager and explained the situation and she approved a new server. A few days later the main server failed, and because I had the backup server configured and ready to go the business could continue. If I hadn't had a backup server, none of the the 500 employees would have been able to work.
Backup systems are only expensive if things never go wrong. That is not how life works.
Similar Posts:
Looking at things from others point of view
Color is a huge influencer of mood